Christmas Closing 2022
FROM ALL OF US AT AGE CONCERN
WE WISH EVERYONE A MERRY CHRISTMAS AND A HAPPY NEW YEAR
THE CENTRE AT LA SIESTA WILL BE CLOSED FROM 21st DECEMBER AND WILL REOPEN ON 9th JANUARY
THE LIBRARY WILL BE CLOSED AFTER 20th DECEMBER AND REOPEN ON THE 10th JANUARY
OUR SHOPS WILL CLOSE :
TORREVIEJA ON 22ND DECEMBER AND REOPEN ON 3RD JANUARY.
LOS MONTESINOS ON 22ND DECEMBER AND REOPEN ON 2ND JANUARY.
WE NEED
VOLUNTEERS.AND DONATIONS
YOU CAN REALLY SUPPORT US PLEASE CHECK OUR WEBSITE FOR DETAILS
Maureen Payne President of Age Concern Costa Blanca Sur awarded British Empire medal
It is with great pride we announce Maureen Payne, President of Age Concern, is being awarded the British Empire Medal in the 2020 Queens New Years´honours list . This comes as recognition for her seventeen years of charitable work, ten years as President., she was eventually presented with her medal by the Bristish Ambassador to Spain His Excellency Hugh Ellott, at a medal ceremony on 9th December 2021
Age Concern Residential Home Volunteer Team and Santa Claus visit the Care Home
Every Friday a faithful group of the Age Concern Residential Home Volunteer Team visit the Care Home in Rojales to take many British and International residents of the home out for a stroll around the town. They stop for coffee but, more importantly, converse in their own language to our volunteers. On Friday 13th December, in conjunction with the Care Home, Christmas Carols were sung in English and Spanish by the very community spirited Rascals Choir. Many of the residents joined in the singing, clapped and danced. Highlight of the afternoon was a visit from Papa Noel distributing gifts of chocolates to everyone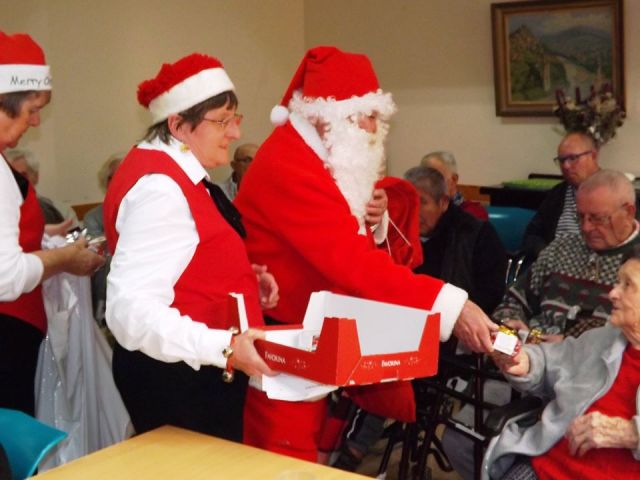 , followed by the trolley laden with beverages (not tea or coffee!!) and cakes. Irene, manager of the visiting team, has spent over 10 years in this role along with many volunteers and she couldn't imagine doing anything else on a Friday. This is a truly win, win situation where residents and volunteers alike thoroughly enjoy their strolls, coffee and chats as it's such a worthwhile, rewarding and satisfying afternoon.
10 year Anniversary for Los Montesinos Shop
On 19th October 2009 the doors were opened for the first time on the Age Concern Charity Shop in Av. del Mar, Los Montesinos, so it was fitting that a celebration was held for this 10thanniversary of the grand opening. Shop manager Paula, who has worked in the shop since day one, organised a party for volunteers and customers alike. They were all treated to cava, juices, wine, canapes and nibbles and we had a couple of renditions of 'Happy birthday' sung by everyone. The highlight of the day was the cutting of the birthday cake made especially by stalwart volunteer Kath Brocklebank.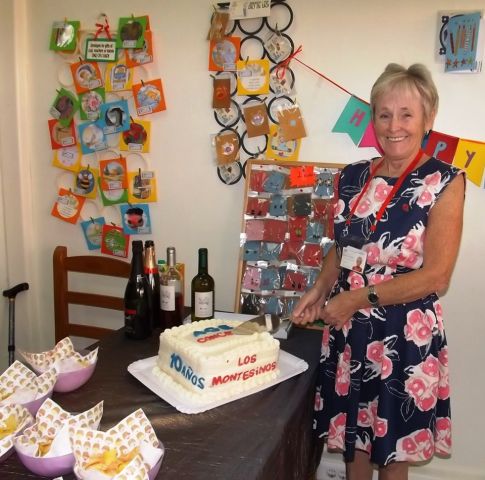 A toast was given by Paula thanking all her volunteers for their support over the years and to look forward to another10 years of service to the community and the vulnerable in the area. Customers of all nationalities frequent this shop not only for the bargains of clothing and bric-a-brac but often call in just for a chat with the happy band of volunteers when dropping off donations for sale. Being a household name, Age Concern values the efforts made from their charity shops by informing people of all the services available, selling tickets for all the social events and just being there when needed.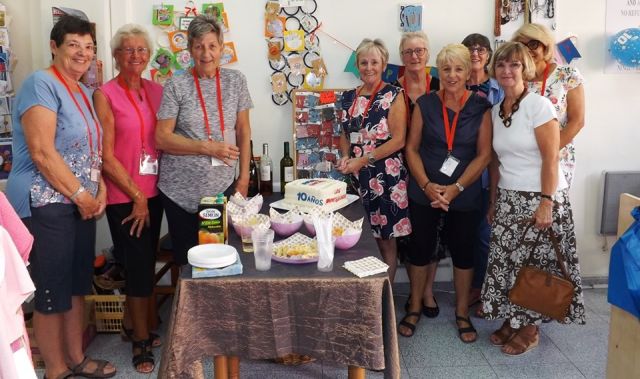 ADIOS WILMA
On Wednesday 24th July Wilma Aitkinhead retired,after twenty one years' service as Shop Manager in our Charity Shop in Torrevieja much to the regret of Age Concern, her fabulous team of volunteers and all international customers that frequented the shop. Her volunteer team treated her to a fabulous night out at the Masa hotel and Age Concern spoilt her with an afternoon tea party at the Day Centre in La Siesta amongst many past and present volunteers. President, Maureen Payne, gave a heart warming speech and presented her with a basket of flowers and a travel voucher for 250 euros.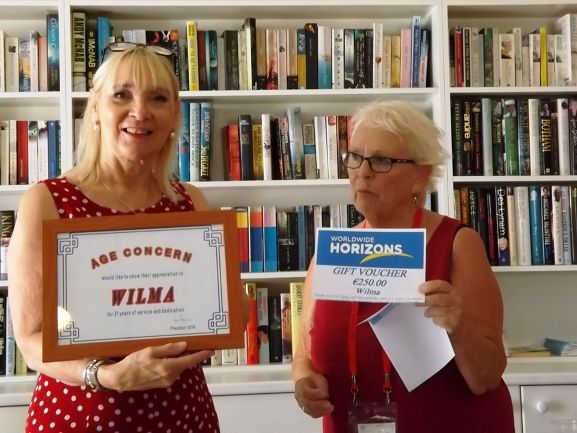 Wilma responded with grateful thanks to Age Concern for all the support given over so many years and vowed not to lose touch.
A SIZZLING SUMMER FAIR
Age Concern held their annual Summer Fair on Saturday 22nd June at their Day Centre and grounds at Calle Paganini, La Siesta.